Restaurant
Enjoy the good life, from early in the morning till late in the evening!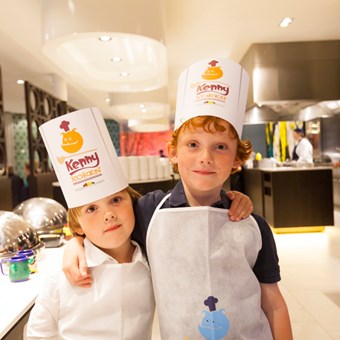 Cooking for kids
Every Friday, Saturday and Sunday evening between 18.00h and 20:00h our little guests can cook their own dish!
Being a parent, you can thoroughly enjoy a fine dinner and a glass of wine, while your children make their own dishes, being supervised by one of our professional cooks. They will decorate their own pizza, adorn cakes, etc.
For children, from 3 through 12 years of age: € 13,50 per child.
For safety reasons, 2 children should be accompanied by at least 1 adult. Please, note that children without adult supervision will not be allowed to participate.
BAR/BRASSERIE ST. PIETER
From early in the morning until late in the evening: you are very welcome at our cosy St. Pieter Brasserie, the hotel's living room.
Here you can have a delicious capuccino and a crisp salad or a great satay. No less than 6 different boutique beers can be tasted by you. The informal, friendly atmosphere attracts many hotel guests, who wish to relax before they call it a day and turn in.